Application
Application Online

Enrollment Semesters

https://bds.oia.ntnu.edu.tw/bds/apply

For Fall Semester Only

Application deadline:

Mar 15, 2022

ICDF scholarship application deadline:

March 15, 2022

Apply now: https://web.icdf.org.tw/ICDF_TSP/WelcomeStart.aspx

Campus

Main Campus

Required Documents

All documents should be in English:

1.      Autobiography

2.      Two letters of recommendation

3.      Study plan (outlining applicant's motive for applying, overall expectations of the program, any specific research interests, and a plan/schedule to complete the study. Relevant experiences, and/or career aspirations can be included.)

4.      Any relevant additional supporting documents for your application (e.g., proof of English ability, honors or awards, etc.)

Notes

1.      Before graduation, students are required to provide proof of English proficiency in (1) 83 or above of TOEFL-iBT, or (2) 220 or above of TOEFL-CBT, or (3) 800 or above of TOEIC, or (4) 6.5 or above of IELTS. This requirement is waived if a student has obtained a bachelor degree or above from an English speaking country.

2.      According to government regulation, foreign students applying for resident visa are required to submit qualified medical examination reports. Please visit the Center for Disease Control website at https://goo.gl/bX7Gf6 to obtain more detail information on "Medical Examination Requirements for Short-Term Students".

3.      Proof of English proficiency (e.g., result of a proficiency test such as TOEFL, TOEIC or IELTS, certificate from a language center or degree from an English speaking country) is strongly recommended. An English oral interview may apply.

4.      Financial assistance: This program works with TaiwanICDF (International Cooperation and Development Fund) to provide "International Higher Education Scholarship". For international students interested in applying TaiwanICDF scholarship, please contact the R.O.C. embassies/missions (or representative offices/technical missions) in home country to obtain a recommendation for the scholarship program. Only those recommended by R.O.C. embassies/missions are eligible to compete for the TaiwanICDF scholarship. For details, please visit https://goo.gl/biUnB5 . For other NTNU financial assistance, please visit: https://goo.gl/WVsMMm.

Contact Info.

Ms. Yang / 886-2-7749-1622 / thyang@ntnu.edu.tw

Remarks

● Classes are taught in English.

● The admitted students, if not having enrolled on the specified dates, can not apply to retain their admission status.

●Admission Evaluation: Document review, Telephone interview.
Timeline
Tuition & Fees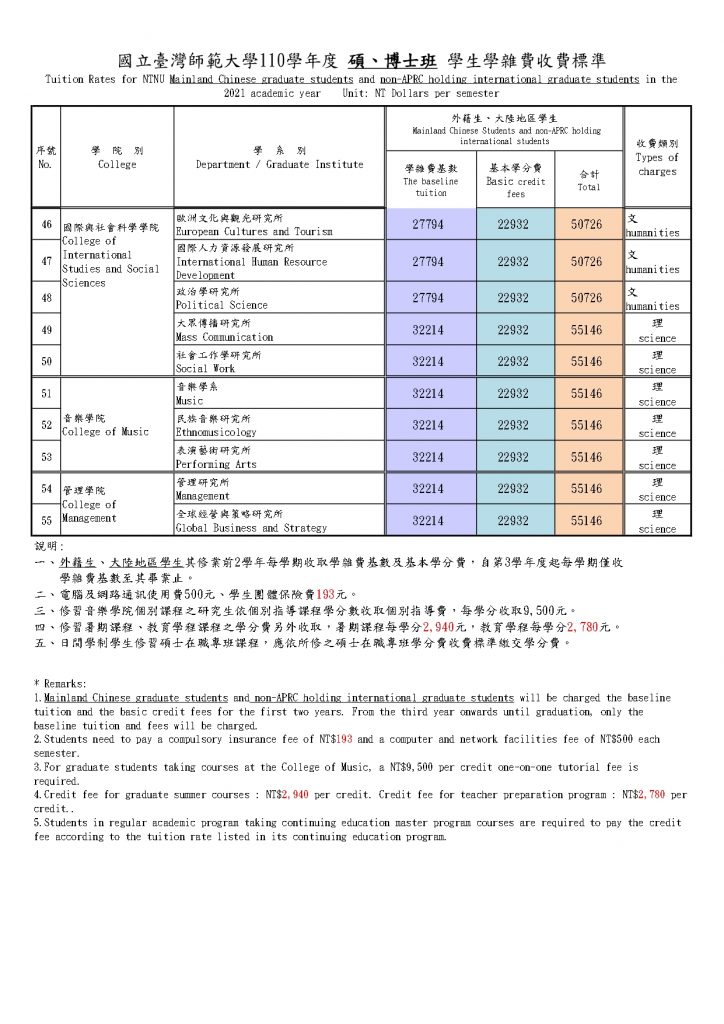 Scholarships
NTNU provides various types of scholarships funded by the school or external sources for international students. The time span of each scholarship may vary. See more details on OIA.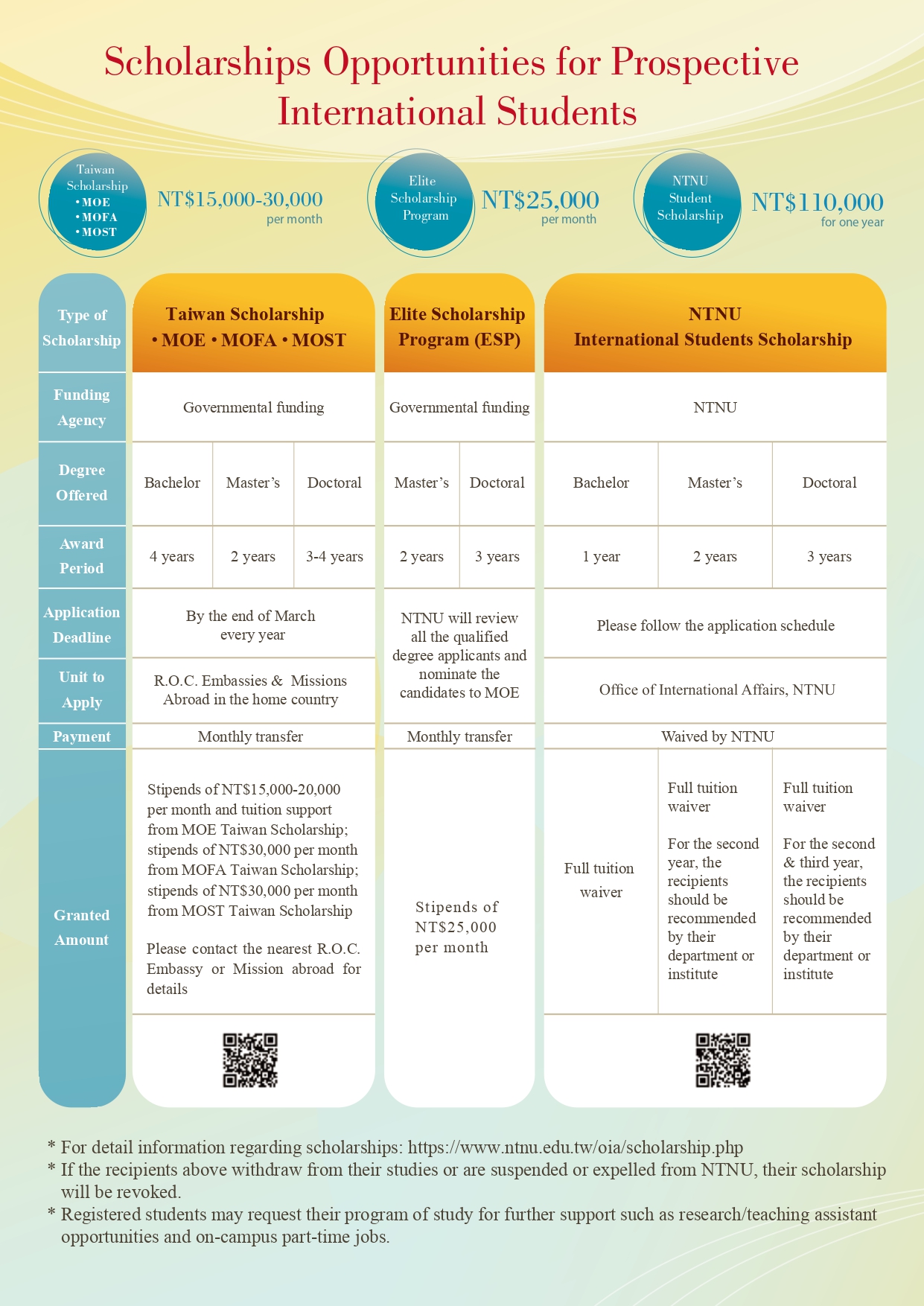 IHRD also cooperates with TaiwanICDF and Fulbright Program providing these exclusive scholarship for applicants
↓TaiwanICDF scholarship↓
↓Fulbright scholarship↓
*Please note that Fulbright scholarship is for U.S citizen only
FAQ
Q: Do I need to provide financial statement if I am also applying for a scholarship? 
A: Yes, you still need to provide financial statement. To provide financial statement during application is a policy from Ministry of Education of the Republic of China (Taiwan). Although you are applying for scholarship, but you will not know whether if you will receive the scholarship, so please still provide the financial statement as required.
Q: I am applying for TaiwanICDF scholarship, do I need to pay the application fee? 
A: For applicants who apply to TaiwanICDF scholarship the application fees is waived, but applicants have to upload the scholarship application form when they apply to NTNU system online as the proof of fees wavier.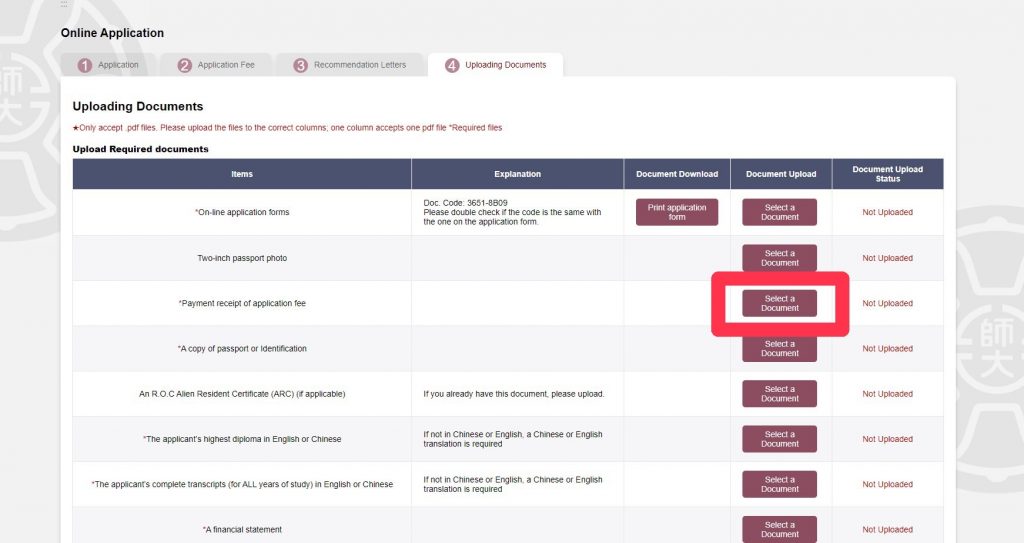 Q: How do I know if the NTNU Office of Internation Affairs has received my application package or not?
A: You can check on the appicaiton system by logining in.