Li-Lun Sun|Taiwan|MBA Candidate '22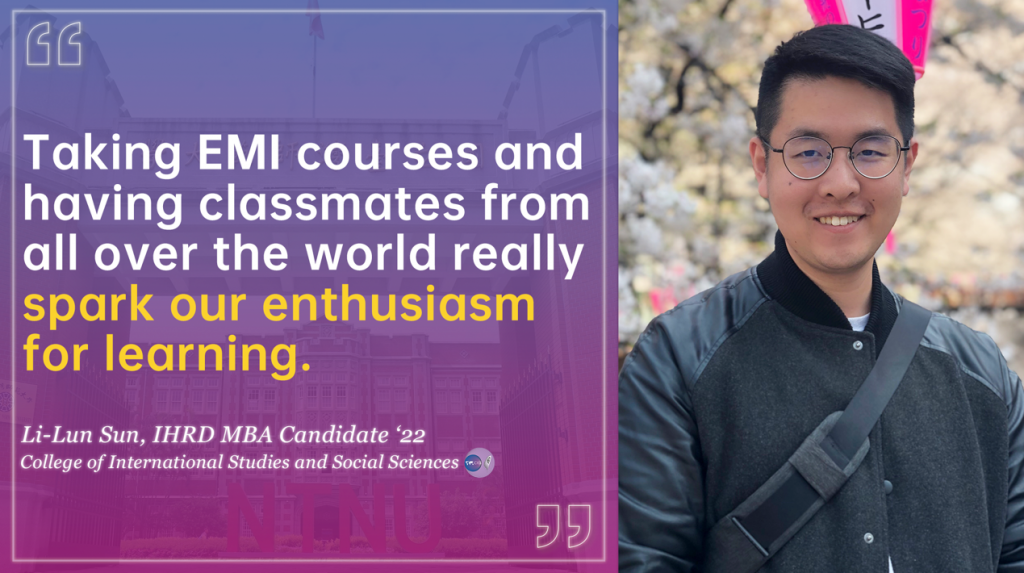 Li-Lun Sun, a second-year student with professional human resources work experience, came to IHRD for two reasons. The first one is to make himself stand out in the competitive job market, and the second one is to pursue his dream — studying abroad. Sun used to study in New Zealand for two months but was forced to return home for family reasons. Knowing that he would be unable to study abroad, Sun decided to pursue a HR-related postgraduate degree taught entirely in English, which is joining IHRD, and it later turned out to be one of the most rewarding experiences he's ever had.
"When I was in New Zealand, most of my classmates were locals. But here in IHRD, we are given the chance to learn with peers from over 10 counties in each class. There's a lot of cultural exchange between us." said Sun, who is thrilled to make friends with people from around the world in IHRD.
Having English-medium instruction (EMI) courses as well as having international peers around really spark the enthusiasm for learning, said Sun. In his words, IHRD students in his class year are lunatics — in a positive way. Every time when they work on the group project, they rack their brains to make it creative. For example, Sun once had his group members sing and dance during a presentation; another group incorporated role-play into the presentation and one group even brought homemade food to share with the class. This positive classroom vibe permeates all classes and helps increase student engagement, said Sun. "When the IHRD teacher asks questions, we never sit in silence," he added.
When asked about the tall order of taking EMI courses, Sun noted that getting tongue-tied in such courses is one of the challenges for non-native English speakers. What he has done to improve his English orally is through self-directed learning. "I have a chat room on LINE with only me as the member," Sun explained. "I upload recordings of myself speaking in English and go through what I've said." Another tip he would like to share with students is to find resources and support offered by the university, such as free tutoring and coaching resources in improving English skills.