Oscar Chang|Taiwan|MBA Candidate '23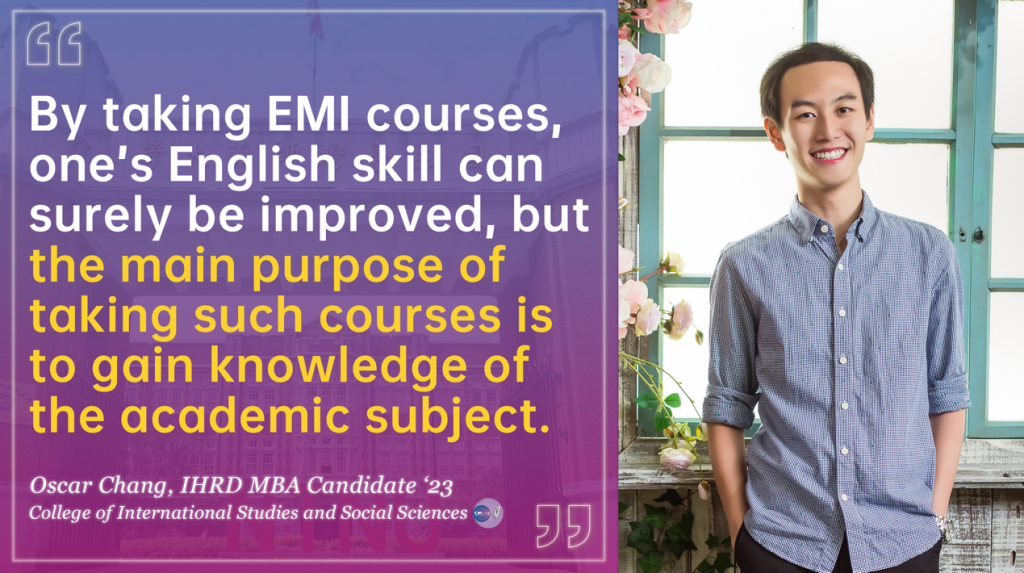 After receiving a bachelor's degree in English, Oscar Chang has branched out into the field of human resources (HR) by joining IHRD. For Chang, who already has a wealth of experience in taking English-medium instruction (EMI) courses in his college years, studying HR in an all-English environment is nothing new, but he admitted that having international peers around makes the class more intense. "The speed, the content, and the atmosphere in the classroom are totally different than before, and now we have to do group projects with international students," said Chang.
Taking courses in IHRD, where students are from a variety of countries, is like constantly having a mini-version of the United Nation Conference. For Chang, learning in such a multicultural classroom is fresh and inspiring. "During the class, international peers always actively ask questions. It makes us want to dig deeper into the topics discussed in class." said Chang, who believed speaking up more often in classes can improve one's learning efficiency.
Chang also encouraged students who are afraid of expressing opinions in English to overcome their anxiety. "Making mistakes is an important part of learning a language. Sometimes when we make a mistake, we will forever remember it and avoid repeating mistakes," said Chang.
As taking EMI courses enables people to learn in an all-English environment, some students tend to put their focus on improving English skills as they enroll in such courses. Chang pointed out that those people seemed to miss the point of the EMI courses. "By taking EMI courses, one's English skill can surely be improved, but the main purpose of taking such courses is to gain knowledge of the academic subject," Chang explained. "Getting a good command of English is just something that comes along with it."
Students wishing to apply for a graduate degree in IHRD can find more information at https://www.ihrd.ntnu.edu.tw/index.php/en/. To learn perspectives and campus life from IHRD students, please visit the program's Facebook page https://www.facebook.com/ntnuihrd/?ref=page_internal.